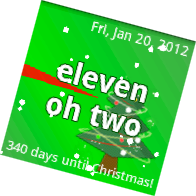 In more "out of stock" news... A quick note to WIMM One users who have the Alltock Christmas and/or Valentine watchfaces installed. They've been temporarily removed from the Micro App Store (Beta) to make room for other watchfaces while WIMM works to improve the scalability of their Micro App Store. And that's fine with us, because Christmas and Valentines Day have passed and won't be back for many months.
We make side-loadable demos of our watchfaces
available here
. If you need your Christmas or Valentines fix, hopefully those will keep you happy until the are back in the Micro App Store.